We are very proud of the achievements our clients have made whilst at the Manor Project. We find that education is a great stimulant running in the background of their recovery program. Here are a few examples of the qualifications our current clients have achieved.
But first of all let me introduce you to a fantastic person who was the 5th girl to move into the project in 2003 and did not have the educational opportunities our current clients are now offered by the project.
Hi my name is Susan, I was a drug user for 23years and at my worst was having to earn £700 a day to fund my habit. I really believed that I would die through my drug taking and got to a stage where I didn't care anymore. Taking drugs for all those years took its toll on my body and I was known by my first name by all the Hospital staff because I was in and out of hospital all the time. My interview for the Manor Women's Project was actually conducted from my Hospital bed.
I had been in many places that were supposed to help me with my addiction but all failed. I was at the Manor Project for 3 years, my stay there was great because the staff made me feel like I was worth something and they genuinely cared. As I was coming to the end of my rehabilitation program at the project I was encouraged by the staff to take a counselling course I took their advice and can tell you to-day I am a qualified Councillor. All this while I worked as a drug support worker, working my way up to Manager and living independently for the last 8 years. I passed my driving test and drive my own car.
 Leah
At the height of my addiction I was using £50 – £300 of drugs per day.
I was using various substances namely Heroin, Crack cocaine and Marijuana
I used any drugs I could get my hands on, and all this whilst taking a heroin substitute methadone.
I worked as a prostitute for over 10 years to fund my habit but would turn my hand to theft, deception and any other illegal activity to gain money for drugs.
I heard about the Manor Women's Project from a marijuana smoker who had dealings with users. I came for an interview.  I've now been at the project for a number of years and I've have achieved far more than I ever dreamed I could, with the help from staff and working hard on my recovery. some of the qualifications I've achieved are level 2&3 health and social care, I'm also currently taking my level 5 in health and social care (leadership and  managers course ).effectively with this qualification I can run my own hostel.
I have level 2 in psychology and level 3 in criminology, I also have level 2 in maths, English and I T.
Hi my name is Katie I have lived at the Manor project for nearly two years.  I was addicted to heroin and crack for 9 years spending up to £400a day. I was committing crime to get money for my habit; I have been in and out of prison all the time I was on drugs. My eldest daughter who is now 13 was removed from my care and placed with a family member when she was 3, when I fell pregnant in 2012 I was told from the start my baby would be taken from birth because of my chaotic lifestyle. A local drug agency got in touch with the manor project for me and I was given an interview and a place a few days later because I was moving into the project social services gave me a chance and let me keep my baby as long as I succeeded at the project. I have been here nearly 2 years now and I have no social services involvement, I am doing my diploma level 3 in health and social care and I will be starting my driving lessons this year. My life has improved dramatically and it's all thanks to the staff at the Manor project for giving me a chance, with their support I will continue to progress.
Hello my name is Naseem  I was using Class A Drugs for 13 years and it wreck my life. I was spending up to £250 a day from crime and have served about 10 prison sentences. I came to the conclusion that I would die on road and did not think anyone could help me. During my last prison sentence I was told about the Manor Project but I was not impressed because I had already been into several places that had promised to help me with my drug addiction and did not deliver what they promised. I came to the Manor and the first thing I noticed was its family atmosphere I soon got stuck in and I have achieved many qualifications including an NVQ level 3 health and social care because I would like to be a drugs worker in the future I have also passed my driving test whilst at the manor. I still am finding my recovery tough and still have a way to go, but with the help of the staff at the Manor I believe I will be 100% successful
UPDATE TO FOLLOW SOON
                                                    
My name is Jackie
I started drugs late in my life, and had already completed by GSCE's, A-levels and BTEC national diploma before starting my drug habit at the age of 21. I was a crack and heroin user for over 8 years of my life, with a daily habit £100, funded by prostitution. My future outlook back then was bleak, I weighed 7 1/2 stone at my lowest point and I wouldn't have lasted more than a couple of years before dying.
I moved into the Manor in June 2008 and it felt like a family straight away, the help and support offered was such a change from the usual help offered in clinic, they really did care about me and my welfare.
I was encouraged to undertake an educational course, the next progression for me was a degree. I did struggle with the degree, it was hard going back to education later in life, but I succeeded in the end. I graduated from Wolverhampton University in 2014 with a 1st class honours, I have since go on to a full time employment within the university.
The photo above is from my graduation in 2014, Alison and Greg where there to offer me support even after I had left the project, it was a proud day for everyone.
My name is Louise, I have been at the Manor Women's Project for two years nine months. Throughout this time I have remained drug and crime free, before I came to the Manor I was addicted to class A drugs for Seven years. I did everything possible in my power to find £150 to £200 a day to support my habit. Alongside my intense recovery and rehabilitation plan I have managed to gain many qualifications including health and social care NVQ level 3, health and social care level 2, Community Justice level 3,Drug and Alcohol Services level 3 CPCAB level 2 counselling skills to name but a few.
My name is Emma Edwards I have been at the Manor women's project for three years, it was costing £300 to £400 per day to feed my addiction to heroin and crack cocaine.,, I was using drugs for approximately 8 years, a consequence of this was I had many custodial sentences. It got to a stage in my life that I wanted to die with a crack pipe in my hand. I had no future prospects I had very little or no self-esteem and I could not see a way out.
Look at me now I am so happy to be alive, I am out of that drug life and I have a brilliant future in front of me thanks to the Manor women's project. With the qualifications I have gained whilst coming through my rehabilitation I can now go out and help others who are in the situation I was. Look at me above with all my qualifications I am so proud, and my mum is so proud of me and I know my dad would would have been too, I love them both very much. Amongst my qualifications I have an NVQ level 3 in health and social care, health and social care level 2 (six module distinctions and overall distinction) I have qualifications in mental health, criminal justice system, and last year I won student of the year award at Walsall College (the plastic star in front of me) you can also see a five aside football trophy that five of us girls from the project won, I would just like to say a massive thank you to Alison and Greg owners of the project I could not have done it without you and love you both very much, EMSKI
Hello my name is Sam I have been at the Manor Project for 3 years 9 months. I was a drug user for 12 years and my habit cost me £200-£300 on average per day from crime. My crimes become so frequent I was placed on the prolific offenders list. I have achieved many qualifications including maths and Level 2 English, Health and Social Care level 2, NVQ Level 3 Health and Social care, Drug awareness level 2, Community Justice Level 3 (Progression Award), Relapse Prevention, Heart Start, First Aid, Health & Safety, amongst others. I have passed my Driving Theory Test and should be passing my Driving Test shortly. I am now a mom to my children. I am currently waiting to move into my own accommodation and will be seeking employment in the future. I would just like to say thank you to all the staff at the Manor Project for all the help, support and guidance throughout my recovery.
Hello my name is Jane and I have been at the manor woman's project for 2 years. I started using cannabis at the age of 14 and by the time I was 15 I was addicted to class A drugs.
My habit cost up to £150 a day and I got the money by committing any possible crime. I was on drugs for a total of 8 long years. I am now proud to tell you thanks to all the help, support and guidance from the manor woman's project I have been drug and crime free for 2 years. Within the last 2 years I have had help with money management at the project and can tell you for the past year and half I have been repaying my debts, because when I came to the manor project I gave up a flat and left with a lot of debt, such as housing benefit, council tax, rent, ect.
I still have a way to go with my recovery and want to make sure l leave at the right time with everything in place. Like most of the girls here I did not have any qualifications but now realise why it is so important to gain them while working hard with my recovery. I have achieved qualifications which will help me back into society by getting a fantastic job,
I have now got my level 2 English and maths, level 2 Health and Social Care (overall distinction) level 2 in Counselling Skills and level 3 NVQ in Health and Social Care, I am also enrolled on a level 3 community justice course for September 09. I have also started my driving lessons. I would just like to say without the manor woman's project and the dedication and passion from the staff I wouldn't be the person I am today, I honestly thought I was doomed to be on drugs for the rest of my life.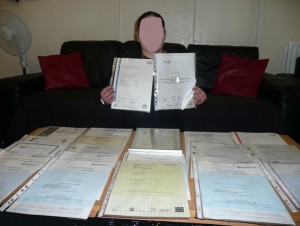 Hello I'm Kirsty I was addicted to illegal drugs for 12 years with a daily habit of £250-£300 and more if I could get it. Drug taking ruined my life, it destroyed everyone around me and would have killed me if I had not come to the Manor. I have been at the Project for nearly 4 years and have needed every day of it to make sure I never go back to that horrific life.
It has not been an easy journey and I thank all the staff for putting up with me and having time and patience to keep believing in me. I now that on a few occasions you could have asked me to leave but you never gave up on me thank you for saving my life. I can now go on to help others who were in the same mess I was in because I have just been told that I have secured a full time job as a drug support worker and start at the end of August. I am now looking for my own accommodation and a new start in life, I have new friends and are so happy I have to pinch myself to make sure it's not a dream.
I now understand why education is so important I am astonished at what I have achieved considering I had no qualifications when I came to the Manor I now have completed health and social care level 2 and level 3 I have gained counselling skills level 2, community justice progression award level 3, drug and alcohol level 2 and all the necessary basic qualifications needed.